Have you been diagnosed with Ulcers or H. pylori?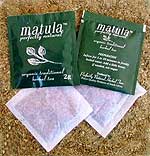 100% Natural Matula Tea is hygienically packed
in an FDA approved facility
If so, STOP! and consider the benefits of the perfect natural alternative - Matula Tea. It is light years ahead of any other treatment you will find anywhere....and we can prove it!
That's right - 100% natural Matula Tea is SAFER and CHEAPER than the most commonly prescribed antibiotics and it is proven to be TOTALLY EFFECTIVE in the eradication of all strains of H. pylori bacteria.
Matula Tea is also effective in relieving the symptoms of other digestive disorders, including candida overgrowth and acid reflux! It has taken over us over 8 years to finally make this amazing remedy available to you!
Matula Tea works by removing the cause of the problem - not by treating the symptoms month after month! Take a few minutes to read why you can easily and safely use Matula Tea to treat the diseases that conventional medicines battle with.
---
Where does Matula Tea come from?
On the southern tip of Africa there is a wealth of fauna and flora with well over 21,000 plant species listed. Most of these plants are indigenous to this country and in many cases endemic to certain areas. Here's the interesting bit - it has been established that over 3,000 of these plant species possess exceptional medicinal properties!
The indigenous people such as the San and Khoi tribes who have populated this part of the continent for hundreds of years, had to find and develop their own resources and remedies for diseases and illnesses. There were no doctors just around the corner in those days. These people lived off the land and by trial and error they managed to develop an impressive number of natural treatments.
A few of these people became traditional healers and utilized their knowledge by treating their neighbors and others in nearby settlements. Over the ages, the recipes for these remedies were handed down from father to son, improving with each generation. When the European settlers moved in to the country, they adopted many of the remedies.
These traditional remedies are derived from plant material such as bark, leaves, stems, flowers or roots. The plant material is normally chopped into smaller pieces and then dried in the sun till completely dry. In most cases, the mixture of herbs is then ground to a powder and often mixed with other plant materials, before being dispensed to the patient.
The final preparation, often carried out by the patient, is either to add the powder to cold water, leaving it to draw for 24 or 48 hours, then to strain it and take as instructed. This is known as an infusion.
Alternatively a decoction can be made by adding the powder to boiling water, similar to the way we make a normal cup of tea.
---
Why a liquid Tea infusion, and not pills?
A herbal infusion is one of the finest forms of treatment simply because it is a liquid. Liquids have superior absorption of the active ingredients into the body and this improves the healing process.
It is even more important to have a liquid treatment when the purpose of the treatment is to eradicate bacterium like H. pylori in the stomach. The reason for this is that a liquid covers a greater surface area of the stomach lining and saturates the bacteria in the liquid allowing enough time for it to be killed off.
If you can imagine a tablet or capsule sitting in one small area of your stomach lining slowly dissolving, it becomes quite obvious that it cannot be as effective. This explains why infusions and teas have been used as a medium for effective treatment for many centuries already.
"Matula Tea is recognized to be the biggest breakthrough in the safe and effective eradication of H. pylori, the
main cause of stomach ulcers."
Important Testimonials and Endorsements
These are well worth viewing - please click on the links below to find out more!
Professor Patrick JD Bouic Ph.D
This world renowned Immunologist tells how effective Matula Tea is, and personally endorses Matula Tea.
---
Matula Tea is comprised of a specific ratio of flowers, leaves, stems from six different plant species, some male and some female.
Each of the six plants are picked at different times during the four seasons of the year. Some are picked when budding, some when flowering, and others after seeding. Some plants can only be picked in the early morning, while others are picked in the late afternoon.
Matula Tea™ - Ingredients

The primary constituents of the formulation are as follows:-

Herbs

Parts used

Oleaceae
Asteraceae
Alliaceae
Fabaceae
Myrtaceae

A combination of finely ground...

Flowers
Stems
Leaves


This proprietary formulation comprises premium quality, ALL NATURAL wild and non-GMO herbs.

Matula Tea is conveniently packed in sealed and protected sachets. A total of 60 Sachets are then packed in a box that makes up a one month supply.

Matula Tea DOES NOT CONTAIN any traces of wheat, caffeine, gluten, corn, soy, milk, egg, sugar, colorings or preservatives.

Matula Tea is packed in an FDA Approved facility and has a 2 year shelf life.

---
Sun Dried for maximum effectiveness
Prior to grinding and mixing, all plants have to be sun dried for up to 2 weeks. This is a very important part of the 100% natural process - these plants cannot be dried in an oven. For some reason, the effectiveness of the herbs drops substantially when the natural process of drying is replaced by artificial means.
---
Harvesting by Hand
The harvesting of each of the 6 plants is seasonally linked to its botanical make-up, the mineral content of the soil, and the influence of climatic variations. Most of the growing areas are very difficult to access from the ground.
In these areas our highly experienced pickers have to be transported by private helicopter and spend several days at a time hand picking strictly limited quantities of the medicinal plants and herbs we use in Matula Herbal Formula™. Because these herbs are indigenous to this part of the world only, harvesting is strictly controlled. Over picking can quickly jeopardize future supply, or even cause extinction of these species.
As a further precautionary measure, our pickers are paid according to the quality and freshness of their pickings, rather than the quantity they can pick.
---
Additional Information and Benefits
Matula Tea is a 100% natural product and may be taken with other medications, such as NSAID's and even antibiotics, without any side effects.




Clinically proven antibacterial properties of Matula Tea completely eradicare all traces of Helicobacter Pylori.



Matula Tea further helps to stop bleeding and other damage to the intestine wall and reduces stress of the immune system.

Matula Tea regulates the production of stomach acids that promote the healing of heartburn and reflux disease, with a resulting overall calming effect.


Matula Tea

helps rebuild the protective mucous lining of the stomach


Matula Tea

promotes the healing of affected tissues.


Matula Tea

is non Toxic - it is as safe as a normal cup of tea
---
Compare Matula Tea to other options
as a solution to H. pylori.......
Matula Tea

Triple & Quad
Therapy

Antacids

100% Natural

Money Back Guarantee

Zero Negative Side Effects

Published Clinical Tests

Relieves Acid Reflux

Kills Candida Overgrowth

Anti Bacterial action

Anti Fungal action

Anti Yeast action

98.65% Effective

NO Repeat Treatments

NO Ongoing Monthly Expenses

Easy Treatment Regimen

Cost Effective

Free Advice from our experts

After Sales Service

Free Reports and eBook
Want to get rid of H. pylori safely?
The proven cause of 80 - 90% of all types of stomach ulcers is Helicobacter Pylori (more commonly known as H. pylori) - a hardy bacteria which is becoming increasingly resistant to most antibiotics. This may came as a surprise to some, but these are the facts!
The good news is that you can now get Matula Tea, a 100% natural remedy that COMPLETELY eradicates all strains of H. pylori - without any negative effects.
This 100% natural remedy is now recommended by Doctors, and is also personally endorsed by world renowned Immunologist, Professor Patrick JD Bouic Ph.D.

Click here to Buy Matula Tea Now

and Claim your FREE Special BONUS
Buy Matula Tea
now and get this

eReport for
FREE!

Normal Price
USD$24.95
Want to find out more about
Matula Tea?
Our highly informative Product Fact Sheet gives you an in depth
view of our best treatment regimen as well as a full discussion on
In Vitro and In Vivo studies.
You can also learn more about the efficacy of Matula Tea against other organisms such as Staphylococcus aureus, Escherichia (E) coli, and Candida Albicans.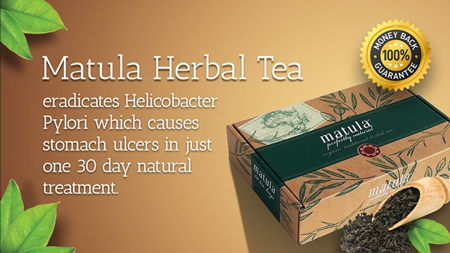 ---
Return from Matula Tea to Perfectly-Natural-Health.com homepage